Casa Angular – a beautiful, peaceful oasis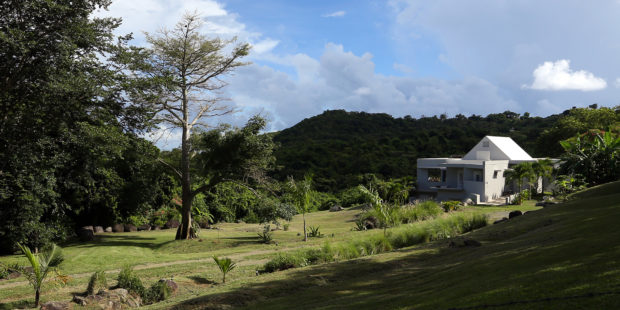 Kids away at camp, my husband and I stayed at Casa Angular with our best friends. Everything about this trip was outstanding, beginning with the house.
Anonymous said…
Aug 11, 2013
It's gorgeous, beautifully decorated, with every amenity and a well equipped kitchen, good linens, comfy bed, wifi, etc.
The grounds are stunning and not another soul in sight. Colleen, the property manager, is great and helped us out in anyway she could. The weather in July was a steady 75 to 80 degrees. Perfect. The island is absolutely beautiful and the best way to see it was also my favorite thing we did – horseback riding on a two hour trail ride with Esparanza riding group. We also loved kayaking at night on the luminous bay. Not to be missed.
It's a very laid back unspoiled island, very local but also has a cool vibe. There is a substantial population of American transplants that have fallen in love with the place, opened restaurants or little shops. Apparently this is also where Puerto Ricans go to escape. Driving around the island is a definite pastime. You must have a jeep to get to the nooks and crannies of the island, not to mention the house!
The beaches in the state park were practically deserted, white sand, crystal blue water, palm trees, just like in your dreams. Weekends were a little more crowded but still great.
We cooked at the house on the grill a few nights; grocery options not so great but they were selling some kind of green cilantro pesto at the vegetable stand and it turned out to be so delicious we cooked everything in it, dipped bread in it, put it on our eggs – yum!
Restaurants – Trade Winds was not so good and overpriced but we loved the Tin Box and if we had had a bigger budget would have tried out Noche and a couple of other great looking places. Duffy's was tasty, easy and inexpensive. After much exploring we all felt we had found the most beautiful place to stay on the island. We also felt it was very reasonably priced for what we got.
I would highly recommend Casa Angular and hope to go back again. My only advice is that if you are a light sleeper, bring earplugs because the night creatures are very loud! Bugs, birds and who knows what else, definitely the jungle! No mosquitos however, due to a nice steady breeze.
Recommended for: Families with Young Children, Girls Getaway, Age 55+, Romantic Getaway.