Lovely and Well Appointed Villa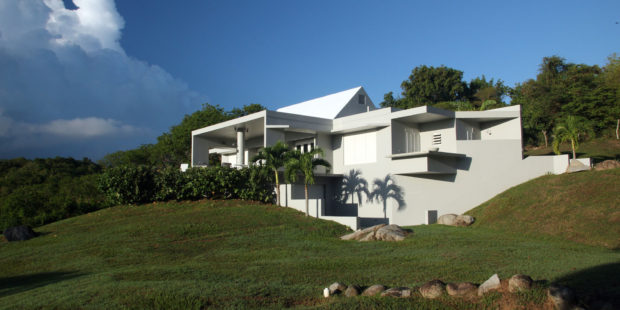 This was our first time to rent a home in a vacation destination rather than stay at a resort. We were a little nervous, but it turned out to be a fantastic experience.
The owner was incredibly accomodating to our travel dates and gave us fantastic recommendations on beaches, restaurants, and travel to Vieques. The property manager was equally helpful and did a great job of getting us settled in. The casa itself is really lovely, built in the Vieques style of all cement, and very contemporary.
As fans of architecture, we marveled at a type of home quite uncommon to see in the US. The casa is incredibly well maintained and clean, and does not lack for anything. Anything you could possibly need is there for your use, which was a really pleasant surprise. The kitchen is awesome and has pretty much every knick knack you could want to whip up a gourmet meal if you're so inclined on vacation. The outdoor showers were my personal favorite, particularly the one by the pool. Views of the ocean are stunning, but beware of showering at night, as you might spot a frighteningly large spider (welcome to the tropics!). The deck/pool area is awesome, love the toys and loungers. We spent a ridiculous amount of time just lounging and reading by the pool because it was so pleasant. This home is conveniently located on the island and once you know where it is, easy to find and navigate to/from. There's a bumpy road up to the gate, but not a problem in a jeep, as most rentals seemed to be. Look out for the herd of cattle, which we found to be hilarious and have lots of personality. Only bummers were that the pool light was burnt out while we were there, which made night dips a little scary. There also seemed to be always one or two persistent mosquitoes in the house … despite our best efforts to kill the one or two, one or two new ones would suddenly appear. Luckily, we had tons of bug spray, so it wasn't bad, just annoying when intermittent buzzing wakes you up at night. Also, note that this home is completely open to the air (with screens) so temperature is amazingly regulated given the architecture of the house. It was only midly humid for us at night, but for some who live for their AC, it might be challenging.
Recommended for: Families with Young Children, Girls Getaway, Adventure Seekers, Romantic Getaway.